This post contains affiliate links.
Listening to audiobooks has become one of people's favorite pastime activities in this century. Many people consider them a more efficient way to access the books they have wanted to read but have had to skip for not having enough time to read. 
Instead, they buy the audiobook version and listen to them when they drive wherever they need, or enjoy them while doing something else that doesn't require holding a physical paperback or a tablet.
And that's precisely what I do nowadays: I start the Audible app on my car radio and listen to my favorite non-fiction titles and podcast episodes wherever I need to go, or I just grab my headphones and play them from my smartphone.
In this post, I want to share with you the difference between the Audible membership plans, what plan is best for me (and will be great for you), and what can be the best plan according to your lifestyle or daily routine.
What's the difference between Audible Plus and Audible Premium Plus?
The main difference between Audible Premium Plus and Audible Plus is that in the first one, you have unlimited access to the Audible catalog of original works and podcasts plus one credit to purchase any book you want no matter its price, whereas the Plus membership grants access to the Plus catalog but you will have to pay for any audiobook that is not part of it at a discounted price.
And having the chance to buy a best-seller title of $24.95 or more for only $14.95 is the best advantage Audible offers, compared with its main competitors: Audiobooks.com and Google Audiobooks. I particularly enjoy checking the Best Sellers and New York Times Best Sellers.
To get there, click on Browse (in the main menu), and under Popular Lists, click on Best Sellers. Then you will be shown a second menu with the options Best Sellers, Top Audible Plus Listens,  Top Audible Listens, and New York Times.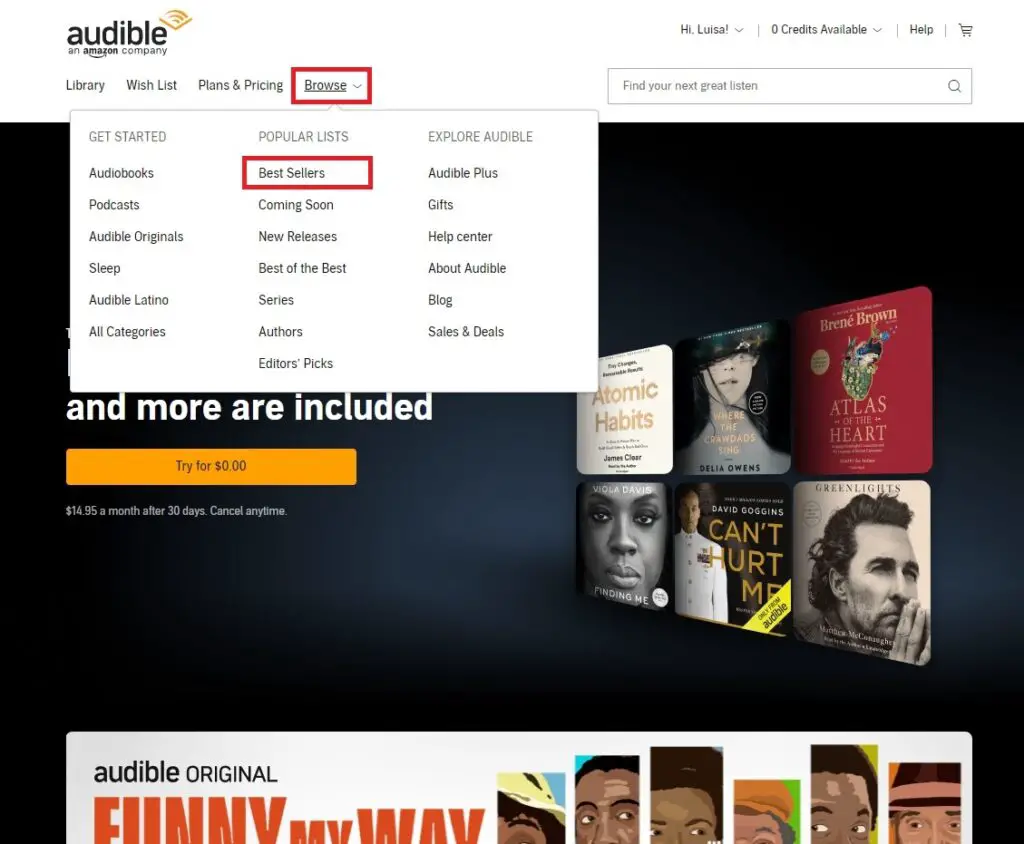 In my personal case, once I have redeemed all the credits I've accumulated in a few months, I get all the best-sellers on my Wish list. Then I switch to the Plus membership to listen to the best Audible Original titles (you can easily distinguish them by the yellow label on the cover of the title).
Although the Plus catalog does not include credits to purchase any audiobooks, its collections are really broad and rich in excellent quality audiobooks, podcasts, and shorter-form content, such as theater audio plays (what I call radio drama, as on BBC Radio 4), audio documentaries, and sleep programs. 
How can I Tell which Audible Plan Is Right for Me?
In the world of Audibooks, the most convenient plan for the listener is the one that lets you purchase books with the frequency you want and for a very comfortable price, in addition to granting you access to a large collection of titles on multiple topics, all included in the same payment.
You can reach this conclusion once you have compared the price of every single best-seller title available on the most popular audiobook platforms (Audible.com, Audiobooks.com, Google Play Audiobooks, Librivox). 
According to this description, you may automatically think that Audible Premium Plus is the best choice. And I totally agree with that, but the top 2 reasons I consider can help you make an assertive decision are based on how much time you have to listen and what topics are the most appealing to you.
So, let me begin by mentioning what Audible plan is right for you based on those two reasons:
If You Have Plenty of Time to Listen to Audiobooks and Audio Content
40 – 60 hours (or more) a month means above two hours a day listening to audiobooks. If that's your case: Go for the Premium Plus Plan (monthly or annual), because you can get:
Best-sellers (one credit in the Premium Plus for $14.95 or two credits for an unbeatable $22.95 price)
Audible Original titles (excellent curated works, by the way), such the successful The Sandman Act I, II, III, and Alien
The very best plans are the annual ones, as you get 12 credits for the price of what you would pay in 10 months ($149.50), or 24 credits, also for only the equivalent of 10 monthly payments
Topics that are appealing to you (see in the image below)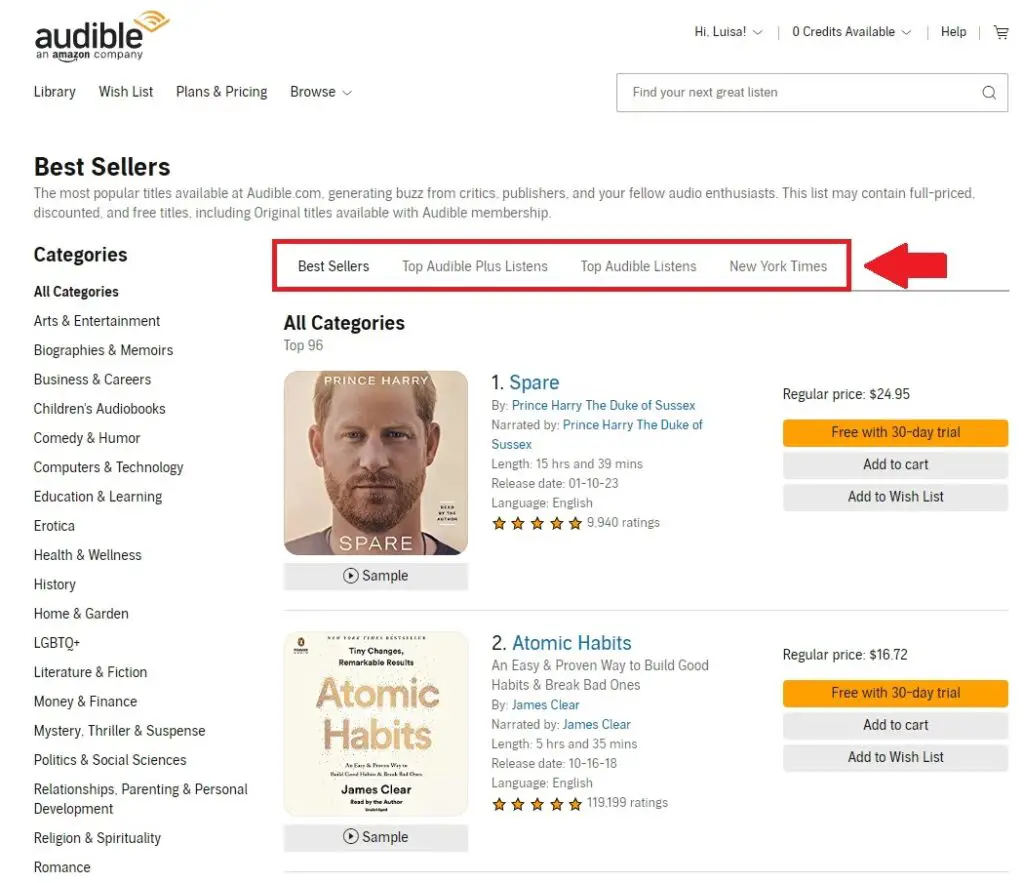 If You Have Some Time Available to Listen to Audiobooks and Audio content
It's when you have 20 hours a month or less to listen to best-sellers and select Audible Originals. You can be in this segment when you work/study, and spend a significant amount of time commuting from home to work or college. 
Also when you are on vacation or short holidays, you can have access to your audiobook library but still enjoy swimming, hiking, practicing sports, barbecuing, and doing every single thing you want without a time restriction.
If this is your case: Get the Premium Plus Plan (monthly or annual for 12 credits) or Audible Plus.
When You Want to Do Something Useful When Driving or Commuting on Public Transportation
If you have less than 20 hours a month to spend on audiobooks, podcasts,  and other short-form audio content, and you want to listen to something entertaining or useful, but your priority is not to listen to best-sellers: Get the Audible Plus plan.
Tips to Get the Most Benefit from Your Audible Premium Plus Membership
Build your Wish List first and then redeem the audiobook you prefer. Having a wish list allows you to give priority to books that would be a great purchase because of their price, length, reviews, or how recently they have been released, etc. In this way, you would never regret having purchased a book just because you saw it once and rushed to get it.
Listen to the sample audio first, so you can know if the quality of the narration is engaging. Then you can add it to your wish list.
Check as much as you can a section called Best of the Best (go to the main menu > Browse > Popular Lists > Best of the Best). You will find 12 different categories, from which I want to share with you my top 3 favorite ones: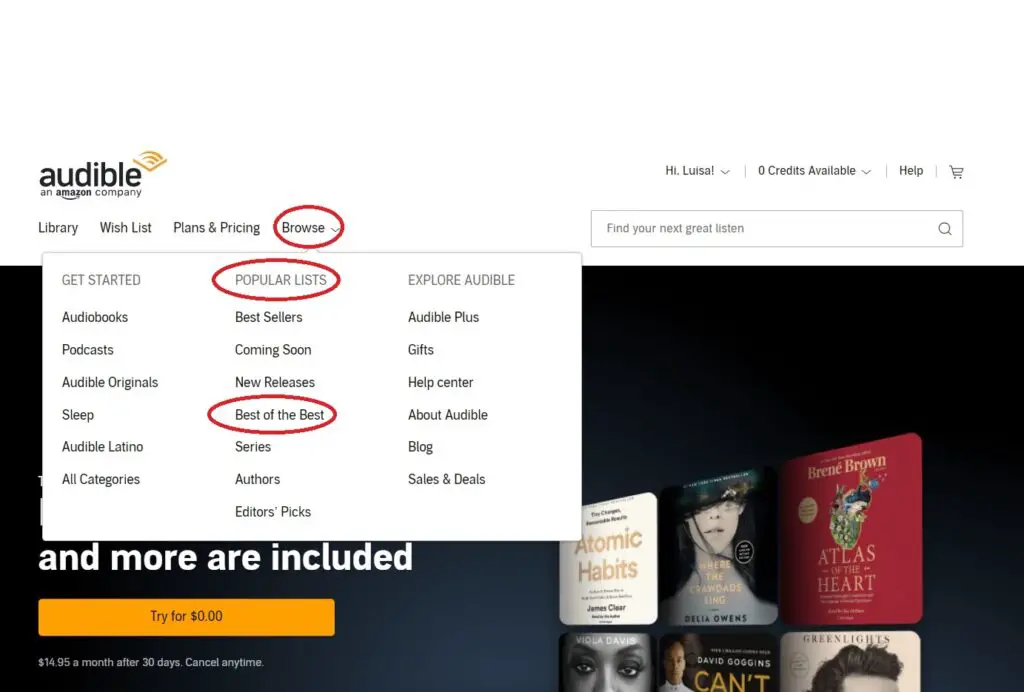 Top Favorite Genres in Audible Best of the Best
This is a quick glance at what you can find in each subcategory from the 12 categories offered in Best of the Best, focused on my favorite 3 categories. What are yours? Let me know in the comments below this post!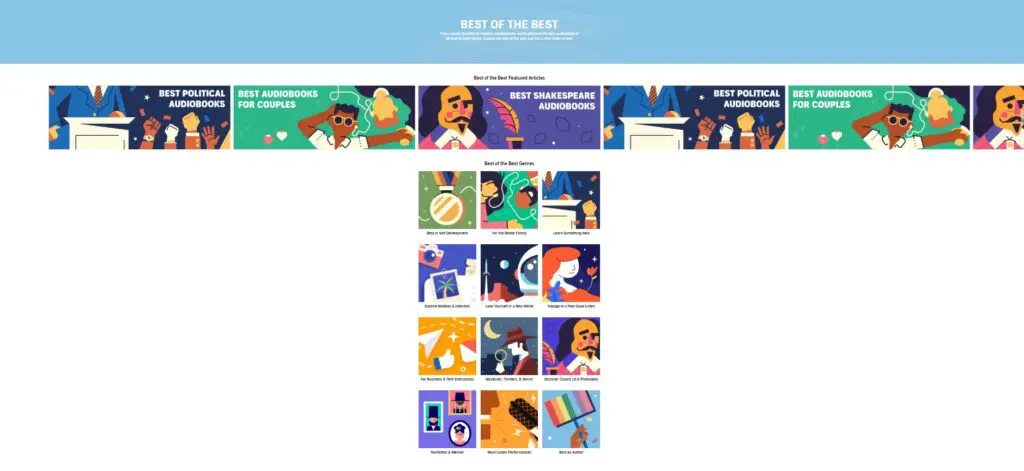 Learn something new: It contains 15 subcategories that cover true crime, history,  science, business, military, non-fiction, politics, spiritual life & fulfillment, WWII, psychology, survival, middle ages, and US presidents from the past 250 years. 
Lose yourself in a new world: sci-fi, comedy, fantasy, star wars, historical fiction, thrilling spy series, fantasy magic, space, western, travel, dystopian, urban fantasy, sci-fi horror, dark fantasy, and my super favorite Sandman.
Must-listen performances: here you can enjoy top-quality performances from black audiobook narrators (absolutely great, every single one, satisfaction ultra guaranteed!), full casts narrations sometimes including soundtracks and sound effects (very similar to my beloved radio drama), celebrity narrated audiobooks (Claire Danes narrating Margaret Atwood's The Handmaid's Tale special edition), Jesse Eisenberg (The Social Network), with Kaitlyn Dever (Unbelievable), and Finn Wolfhard (Stranger Things) narrating When You Finish Saving the World, Reese Witherspoon narrating Harper Lee's Go Set a Watchman, Maggie Gyllenhaal (Downton Abbey and Harry Potter) narrating Sylvia Plath's The Bell Jar, Meryl Streep narratingHeartburn by Nora Ephro, Anne Hathaway narrating The Wonderful Wizard of Oz by L. Frank Baum, Nicole Kidman narrating Virginia Woolf's To the Lighthouse, and many more great performances and stories.
What Plan on Audible Is Best
Deciding what plan on Audible is best relies on how much time you're going to spend listening to the audiobooks and audio content you buy, and the number of tiles available on your favorite topics and genres, for entertainment, professional or educational purposes.
I consider the annual plans (12 or 24 credits per year) the cheapest option in Audible when you have both time and a solid wish list of best-sellers.
That's what I did during my first year of using Audible as my main audiobook provider. Then I switched to the Plus membership, having also an exclusive list of favorites based on all the audible originals that I found really appealing. Since then I cancel my memberships for a few months until I catch up with everything in my Library (the titles I've purchased), and then start again.
If there are more than half a dozen best-sellers I like, I get the annual 12 credits Premium Plus plan. Otherwise, I just pay the monthly 1 credit Premium Plus plan for the number of months that I want.
Let me know in the comments if the content in this post has helped you choose the best Audible plan for your case, and enjoy as much as you can the pleasure of listening to audiobooks!