Do you want your music to be on the best streaming platforms in the world and upload an unlimited amount of singles and albums, for only $19.99 per year, whereas other services charge you per song and album you upload?
I'm very glad to present in this post the best option for artists, producers, and musicians to distribute and sell their work on more than 35 streaming platforms, including Spotify, Apple Music, iTunes, YouTube Music, Amazon, Deezer, iHeart Radio, Instagram, Facebook, Tik Tok, Resso, Twitch, Pandora, Tidal, and ClaroMusica. 
You keep all your royalties without any cut from anyone! And to start, but not to rush, I'll answer the most important questions you need to clear before you register:
What Is Distrokid Used for
Does Distrokid Owns Your Music 
Does Distrokid Copyright Your Music 
How Fast Does Distrokid Upload to Spotify 
How Much Does Distrokids Cost 
Can I Trust Distrokids
How Do You Get Money from Distrokid
How Do I Withdraw Money from Distrokid
How Much Money Are 1000 Streams in Distrokid
Does Distrokid Pay Monthly
Does Distrokid Charge Monthly
What Happens if I Stop Paying Distrokid
What Is Distrokid Used For
Distrokid is used for uploading your own music without any limitations. You get 100% royalties for all your singles and albums. By paying $19.99 per year for a single band or artist, your music is distributed on more than 35 streaming platforms like Spotify, Apple Music, iTunes, YouTube Music, Amazon, Deezer, iHeart Radio, Instagram, Facebook, and TikTok. 
If you want to allow your music to be used as a soundtrack on other media (TV, films, video games, etc.) you can upload it to other companies such as EpidemicSound or Artlist.io. 
With Distrokid you can opt-in for an extra option (YouTube Content ID) to track what videos on YouTube are using your music, and then get paid the ad revenue instead of the people who are using it in the videos they upload. 
Does Distrokid Own Your Music
When you register to Distrokid you are the owner of your own music and by no means you're giving away your copyright. Distrokid is an intermediary distributor that helps you simplify the process of uploading your music on multiple streaming platforms for a very low annual fee. 
It's worthwhile to check the Copyright Office's official website to make sure your work will always be yours. Nowadays you don't have to give away the copyright of your music. You will still be the owner of everything you create for 95 years from the moment your work is released on the market. 
After that period expires, your work will be available to the public domain, and only then others can re-record, arrange, or make whatever other kind of changes to it, to release it as their work for personal or commercial purposes.
All of the above will work that way unless you offer your work under any of the Creative Commons Licenses.
Does Distrokid Copyright Your Music
Distrokid is not a copyright service platform but a distributor of your singles and albums to more than 35 streaming service stores. If you want to copyright your music, check all the details in the corresponding Copyright Office in your country. In the US you can go to Copyright.gov.
I good practice I always follow is to print the music score of all my works before I upload their masters (the audio file) to any platform or website. Then I take it to a notary's office and pay the affidavit fee so that each page of the full score gets the notary's stamp with the date it was presented. 
This is a way to demonstrate that my work exists from that date, in case someone else claims it was not composed by me. The date on the affidavit and pages of the music score, plus printing the screenshot or even making a screen video capture of the moment when the single or album is being uploaded, are excellent ways to protect your work.
How Fast Does Distrokid Upload to Spotify
Distrokid takes 1 to 5 days to upload your singles or albums to Spotify. In some cases, it takes less than 24 hours. Each store can take its own time to check your work before releasing it to the public to guarantee it is high-quality audio and check for possible copyright infringement cases when there are too many similarities with other works. 
It's possible that other distribution companies get your work on the main streaming services and stores, before Distrokid, but it happens very occasionally. 
Another issue that may make your work take longer than expected or even be rejected is that the overall level of each song does not comply with the minimum levels stated by each store or streaming service: LUFS overall loudness and TP (True Peak).
Check for the suitable levels required by the most important streaming services and stores on Masteringthemix.com.
How Much Does Distrokids Cost 
Distrokid offers three annual plans, depending on the number of artists that will upload their music. For a single artist or band, it's $19.99. For 2 artists or bands, it's $35.99. From 5 – 100 artists or bands, it's $79.99. It's the best option in the market.
Distrokids also offer other additional services, called Album Extras. They are meant to increase the users' earnings in addition to the standard royalties for streaming services and purchases.
One service I find very useful and profitable is tracking who is using your music on YouTube. 
If you decide to get it (YouTube Content ID service), you will have to pay an annual fee of $4.95 per single, and $14.95 per album. The only case where Distrokid does take a cut from your earnings is in this service: $20% of the YouTube ad revenue.
Honestly, this option is a really good tool to make money from your work. While other people start using your music for commercial purposes without letting you know, you will get a profit every time your songs are played on YouTube through their channels. 
Read all the other Album Extra services here.
Can I Trust Distrokid
Distrokid has been a reliable music distribution service since 2013, and even the founders of its two main competitors (Jeff Price from Tune Core and Derek Sivers from CD Baby) state it's the best distributor in the market, worthy of being recommended to everyone. 
The tools they use to track how many purchases and streams you get per month on every platform and store are always accurate. It's also amazing the way they get to track if your music is being used on YouTube. 
They can detect how much ad revenue others are pretending to make from your music, manage to prove it was composed by you, and request YouTube the corresponding ad revenue on your behalf. This way you can have full peace of mind about receiving what you deserve for your music. 
Keep in mind that once you have uploaded a song or album (made of two or more songs), it takes the stores and streaming services about 90 days to send Distrokids your earnings. After that period you will see them in your main menu, in the Bank option. 
How Do You Get Money from Distrokid
You can get money from Distrokid every time your songs and albums are purchased from each of the stores and played from the streaming platforms that work with it. The kind of royalties you receive is called Reproduction Royalties. You receive your earnings every month through your chosen payment method. 
If you want to get royalties for distributing the score sheets of your music or licensing your works for TV, films, or video games, you will have to hire a different provider like Musescore or Amazon KDP.
Other additional services may increase your earnings. I like to recommend YouTube Content ID, which allows you to receive the ad revenue made on YouTube every time other people use your music (without letting you know) and monetize it with ads. It's an annual fee per single ($4.95) or album ($14.95).
How Do I Withdraw Money from Distrokid
You can withdraw money from Distrokid any time you want through their payment provider Tipalti. You can find it in the Bank option in your account. You can get paid by Direct Deposit/ACH, Wire Transfer, Check, or your PayPal account.
You can withdraw any amount of money you want,  as long as you have earnings in your account. I mention this, because there are a few other services you may hire from Distrokid, and you may be offered to pay for them with the money in your account. 
You can also change your payout method at any time by clicking on your profile icon. There you will see all the available options. That option is really useful if you have a permanent resident status in a location outside your home country, in order to get cheaper fees.
Take into account that their payment provider does charge a small fee for sending money through any of their payment options. Some are higher than others, mainly for users outside the US. Check for all the details on their site. 
How Much Money Are 1000 Streams in Distrokid
The amount of money you get paid through Distrokid represents what each streaming service and store pays you. On average, per every 1,000 streams, you can get $12,84 on Tidal Music; $7,83 on Apple Music; $3,18 on Spotify; $2 on YouTube Music; $1,33 on Pandora, and $1,10 on Deezer.
How much you get paid by each platform depends on the music style your singles and albums feature. For some people, their greatest revenue comes from YouTube Music, whereas for others it comes from Spotify.
One definite fact is that you can get much better payments from streaming services every time their paid subscribers listen to or purchase your music, rather than free account users.
Another key fact is to scan what music genres get more streams on each store, so you can have an idea of which stores may pay you more every month. 
Does Distrokid Pay Monthly
Distrokid allows its users to withdraw money from their Bank section every month. The balance users see in that Bank option reflects the streams and purchases of the previous three months reported in detail by each of the streaming services and stores. 
As soon as you upload your first single or album, you will see the real earnings only after 90 days of being streamed or purchased. The reports are very detailed so that you can have absolute certainty of which stores and services get you more earnings.
Does Distrokid Charge Monthly
The only optional monthly extra fee charged by Distrokid is Social Phone for $12.99 a month. This service allows you to choose a phone number to send text messages to your fans and read what they text you as well. According to Distrokid, people open text messages at a 98% rate, vs 2% when they read your posts on social media networks. 
To get this service, first you need to be an annual fee subscriber. Check all the prices and plans in How Much Does Distrokid Cost.
Distrokid charges an annual fee of only $19.99 for a single band or artist for unlimited singles or albums. Renewing this yearly plan allows you to keep your work available through that 12-month period. If you decide to cancel your annual subscription plan but want your music to be available for an unlimited amount of time, choose the Leave a Legacy option.
What Happens if I Stop Paying Distrokid
If you stop paying your Distrokid annual plan, your singles and albums are removed from the streaming services and stores. If your renewal charge fails, your work won't be removed immediately but you will receive a clear notice from Distrokid that your payment was declined.
If you want to avoid your work being definitely removed, make sure you click on the option Leave a Legacy; this action will prevent any removal of your music when your credit card or payment method declines the annual fee payment request. The "Leave a Legacy" fees are $29 per single and $49 per album which includes a minimum of two songs.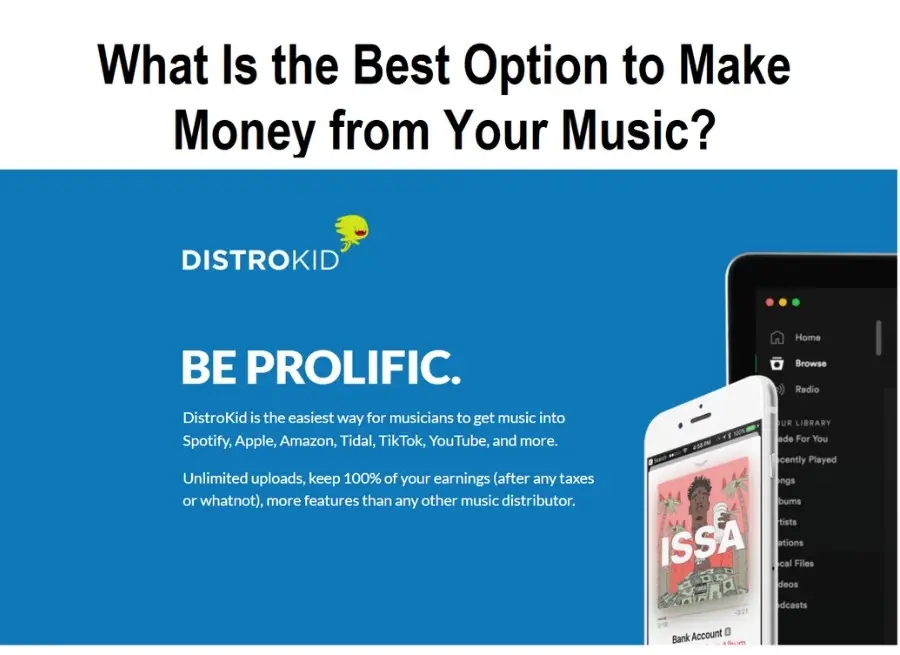 When you opt for the Leave a Legacy service, make sure you select it every time you upload a single or an album. If you choose this option for some of your works only, keep in mind that your earnings after canceling your annual subscription will only come from the ones you selected. Thus you will reduce the chances of feeling you are not earning enough money from your music or as much as you expect.

What are you waiting for? Go and get your Distrokid account now!