When you create music you need two pieces of software: a Digital Audio Work Station, and a good set of high-quality virtual instruments and effects, usually in a bundle, which is much cheaper than purchasing them individually. 
But having both of them in the same music software package is an outstanding achievement of a pioneer company called Reason Studios (former Reason Propellerhead), with their masterpiece Reason. 
In addition to the excellent sound quality of their synths and samplers, Reason became popular also for its animated cabling to route devices to the mixer, virtual synths, samplers, and effects, without menus or windows, which is very typical of all the other DAWs.
Reason 12 and Reason+ are the two versions of a stand-alone DAW plus a huge set of virtual instruments and effects, all in the same music production software. Reason 12 is a single download for $499 and Reason+ is the monthly online subscription for $1 for the first month, and then $19.99. You can cancel whenever you want.
And to be honest, with Reason 12 and Reason+ you can make any single kind of sound that you want for any music genre and audio product, just by using all the controllers and options on all their devices. You do not really depend on purchasing large bundles from other developers, but just the ones that you really need. When you try Reason+ you will know exactly what I mean!
In this post, I will discuss the most common questions a beginner musician or experienced composer and producer who is new to Reason may have, before making the decision of buying the full version or getting the monthly subscription. Keep reading to the end!
Is Reason a Good DAW
How Much Does Reason Studio Cost
Does Reason Have a Free Version
Is Reason Subscription Only
What Is Reason+
How Do You Use Reason
What Can You Do with Reason
How Can You Make Music with Reason+
Best Virtual Instruments and Effects for Game Music, Film, Dance, Trap, and Hip Hop in Reason
What Are Reason 12 System Requirements
Is Reason a Good DAW
Reason is an excellent DAW for beginners or expert music producers because, in addition to letting you work with Midi and audio tracks, from recording, and editing to mastering, it includes a large number of virtual instruments and effects that will help you save lots of money, instead of buying them separately or from different developers.
These are a few recommendations to consider before you Reason 12 or Reason+:
If your goal is to make your own music with virtual instruments and some audio tracks, you will find Reason extremely useful and easy to use. The instruments it includes will be enough to work on all kinds of music
If you're more onto epic music for soundtracks, choirs, strings, and orchestra instruments for games, TV, or films, you will make a good job, but may also be tempted to get a few additional VST instruments from Native Instruments.
The number of plugins and effects, plus the DAW functions that you find in Reason are available at an unbeatable price: only $499 for a single lifetime license
If you not only produce music for several audio products like games, radio, and TV commercials, but also specialize in voice-over products, and spend several weeks or a few months without working with music, Reason+ can be a great choice: you can pay only for the months you will use it
How Much Does Reason Studio Cost
Reason Studios versions Reason 12 and Reason+ are both a digital audio workstation and a huge set of virtual instruments, effects, samples, and loops that costs $499 (single download for unlimited use) or a $19,99 monthly subscription. 
Let's take a look at how much are you really paying for each virtual instrument and effect in Reason 12 and Reason+ from the official website: Reasonstudios.
What Does Reason Come With?
Type of Music Software
Number of Instruments
Number of Effects
Price
Reason 12

DAW Virtual Instruments Effects Loops and Patches (Soundbank)
Unlimited audio and midi tracks
19
28

Plus:
4 Midi FX 
8 utility devices

This is a great plus:
29000 device patches, loops, and samples
$499 First-time users

Or

$199 Upgrade from Reason 1 to 11

Reason 12 Main Features / Audioproductcreators.com
You are paying $8,46 on average for each instrument an effect in addition to getting the full set of functions of a powerful DAW.
This means that plugins from other music software developers (virtual instruments and effects) can be more expensive, even during seasonal sales, when they lower their prices ranging from $9 to 29 in most cases.
Does Reason Have a Free Version
You can use Reason+ for $1 during the first month and then $19.99. The best advantage is that you can use the entire software only when you really need it. If you use a DAW and virtual instruments and effects on a permanent basis, consider getting Reason 12 for $499 for a single download lifetime license.
With Reason+ you get the latest version of Reason in addition to full access to all the weekly new sound packs. You will always have the most recent version of the software plus every single new instrument. 
Just for $1 you get access to the full and most recent version of Reason for the first month. 
To start using Reason+ follow the steps below:
Go the reasonstudios.com and click on the orange button that says GET REASON+ NOW
Type your email address and click CONTINUE
You will receive an email from Reason Studios with a link to download their App called Reason Companion
Once you install it and run it you will see the two main options: Install Reason 12 and Install the Soundbanks
I think subscription services are the future of all the music software options available in the market at the moment. Not only Reason Studios but also Native instruments offer a subscription service, and the companies dedicated to designing effects plugins will do the same.
Is Reason Subscription Only
Reason is available as a single lifetime license download ($499) and as a monthly subscription called Reason+ ($19.99). The advantage of the subscription service is that you get all the features and updates of the single license version by paying only every time you need it. 
Reason+ contains the complete set of DAW functions, virtual instruments (mainly synths and drum machines), audio, and midi FX, as well as a huge soundbank with over 27000 sounds.
I personally enjoy very much this option as I get exactly the sound that I want on every kind of project I make, without making a big investment. 
I use Reason+ just for the number of months when I need to focus on making my own music, as well as commissioned works for cartoons, and soundtracks for audiobooks and podcasts.  The rest of the time I work on voice-over products, and online music production training events. 
If you need to work on music that must include hyper-realistic acoustic orchestra instruments or choir sound, very common for film and game soundtracks, there are two ways to get the best tools for a fair price:
You can buy separate bundles of virtual instruments from Native Instruments or Spitfire. They can be used on any DAW, so it will be easy to import these VST plugins inside Reason
You can get the subscription service from those music software developers, work on the sound you want, render them and import them into Reason+
How Do You Use Reason
You can use Reason once you have downloaded the full version of the Software (Reason 12) or the subscription version (Reason+) to your computer. Use the Rack to insert instruments or effects, the Sequencer to start writing your music as a Midi track, and the DAW to record vocals and acoustic instruments. 
Once you run the program for the first time, the Reason Companion app also opens. In there you will see the latest sound packs that you can download for free in Reason+ (the monthly subscription version), listen to their samples, and download the ones that you like.
Every time you launch Reason 12 you will see a new project called Document 1 with some devices:
Hardware Interface: It shows the interface you are using
Master Section
RV7000 MkII (reverb units): the first one shows the setting of a classic plate reverb; the second one shows a popular setting for live drums; the third shows settings for epic sound for film and game music
The ECHO delay unit: A very powerful and easy-to-use tool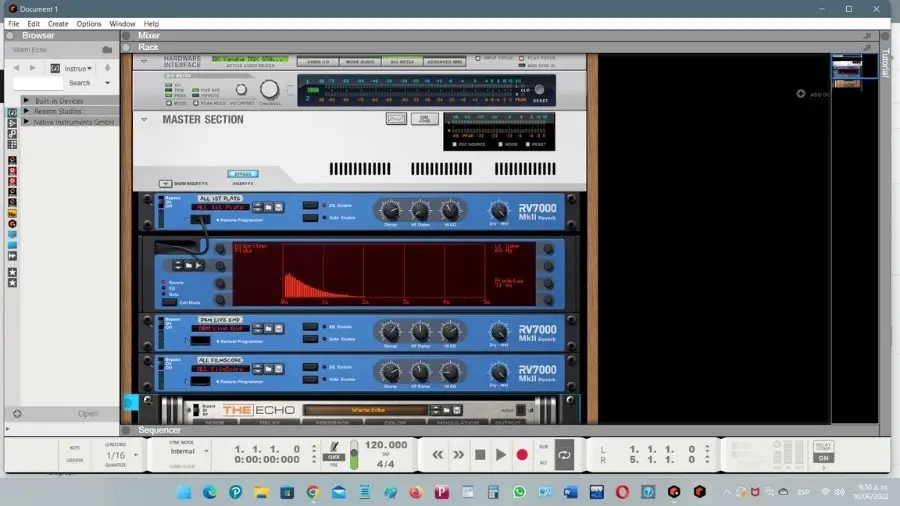 A great feature of Reason is that you have direct access to a very complete series of video tutorials inside the program, located on the right side of the same window. It's very complete, and it takes only a fraction of the screen. It teaches you how to start using the mixer, the rack, and the sequencer.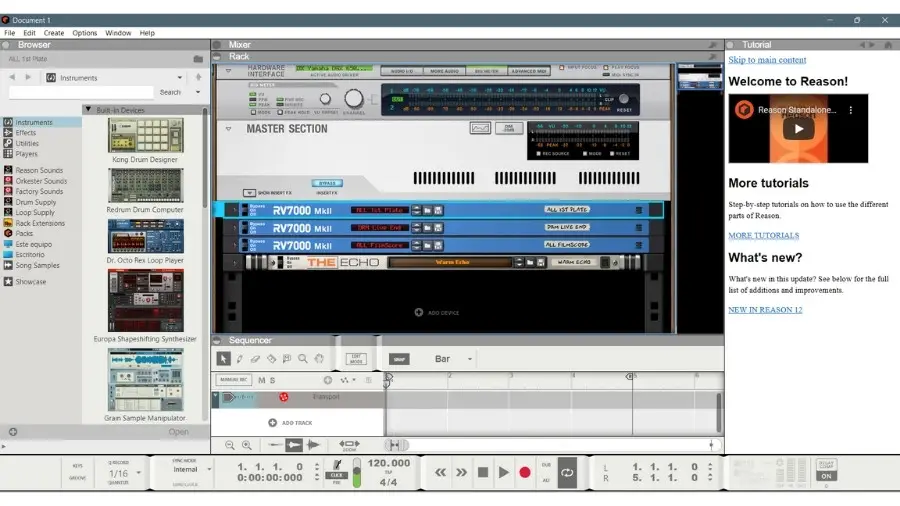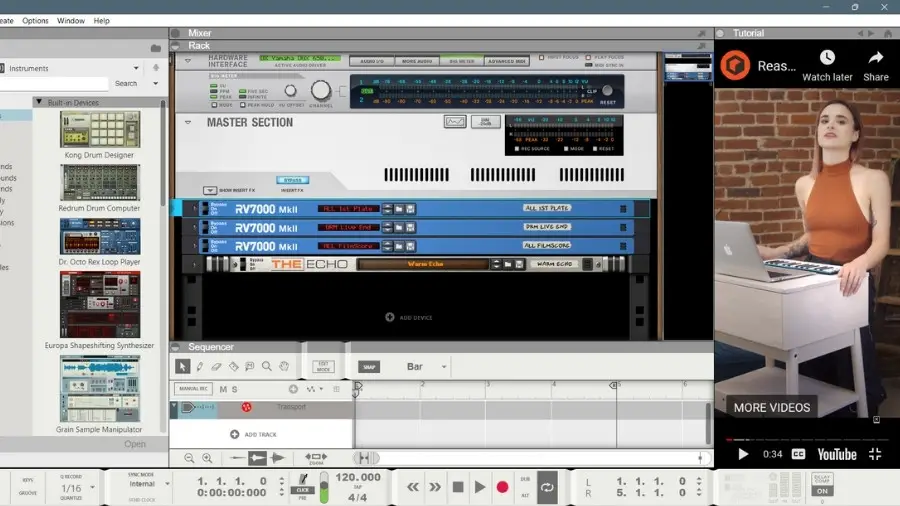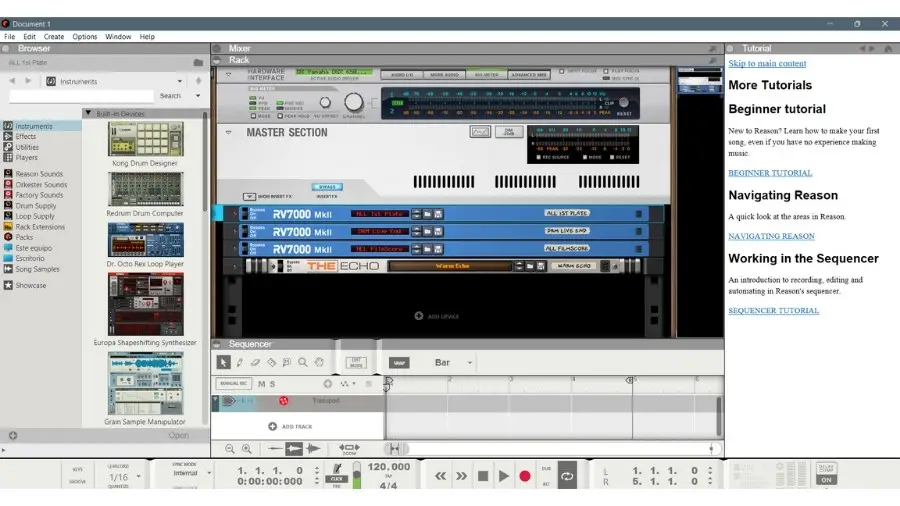 What Can You Do with Reason
In Reason you can create the music and sound design for game music, electro, pop, new age, film, TV, podcasts, and radio. Reason is also a great tool for creating sound effects by exploring thousands of samples in the soundbank, downloading specific sound packs, and modifying the parameters in each device to get unique sounds.
Keep reading below to see my recommended instruments and effects for every kind of music project.
How Can You Make Music with Reason+
The easiest way to start making music with Reason+ is to listen first to the sound packs available through the app Reason Companion. You can search from the most recent weekly releases, by author, genre, or any other keywords, for the entire set of releases in all genres. Choose the packs that represent the sound that you want and install them.
Once you are ready to begin, open the Reason Companion, go to My Packs, and open the pack you want into Reason or any other DAW that you use. All the devices will be inside a device called Combinator. Now you can start making music with the sequencer.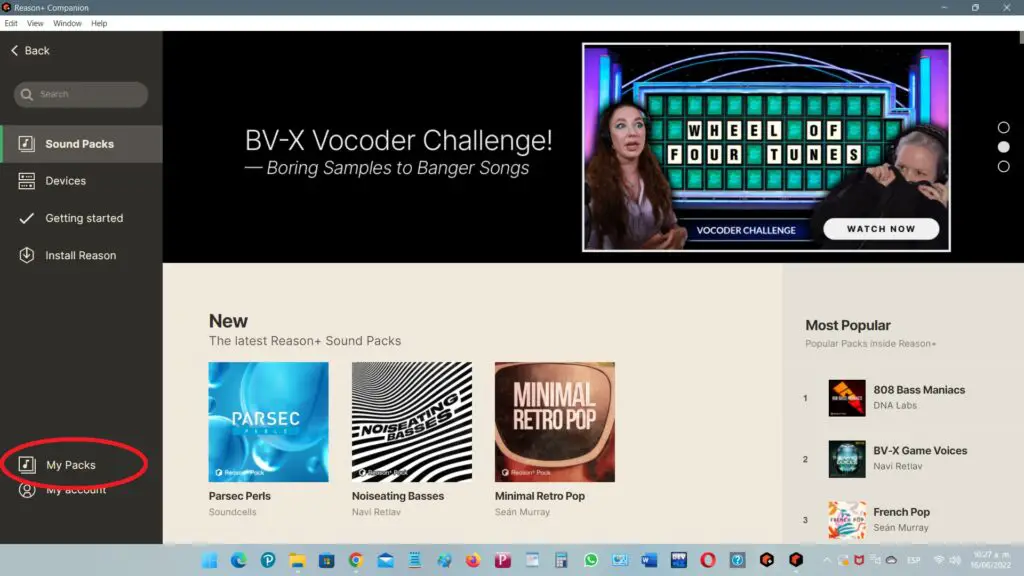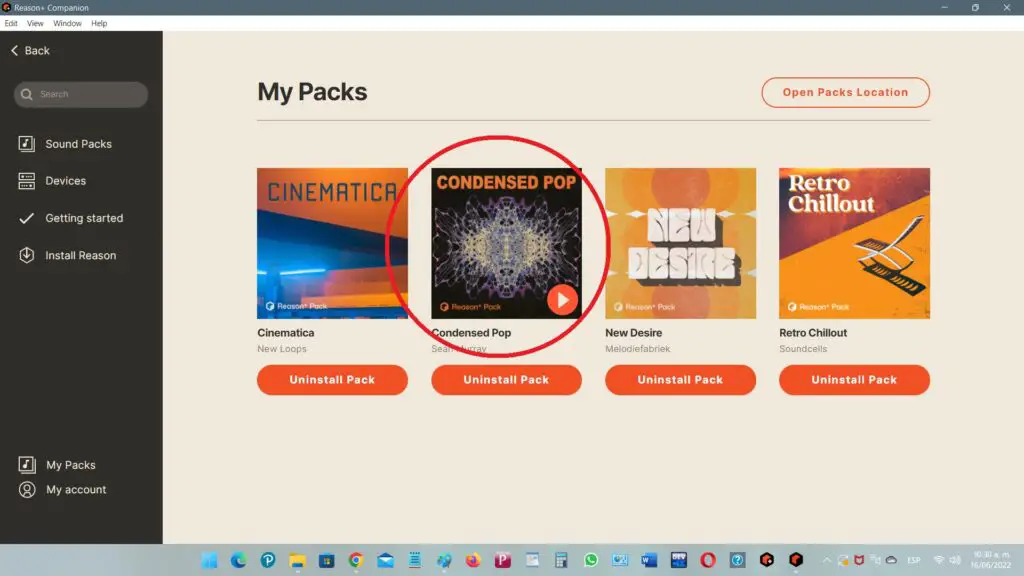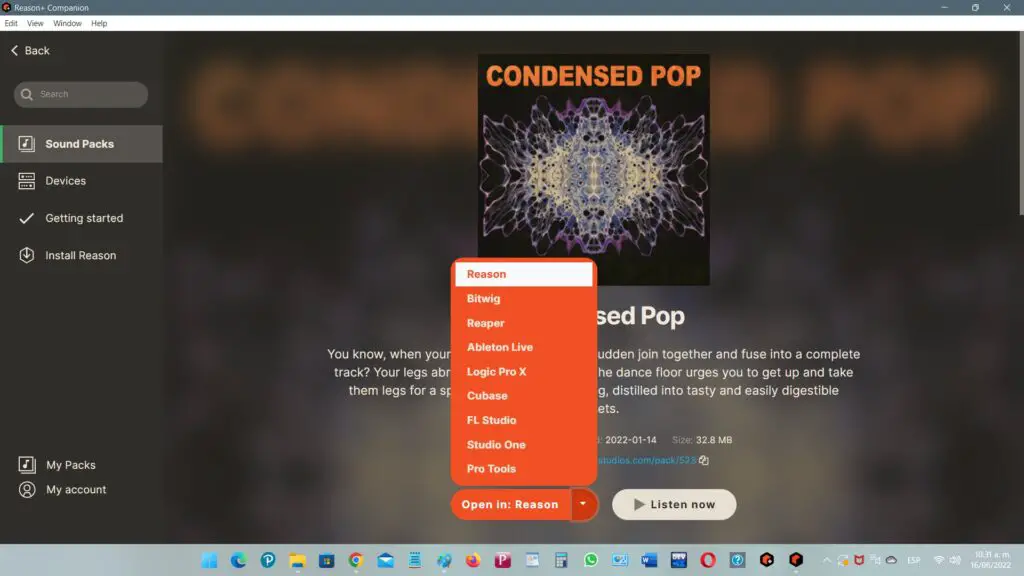 This strategy will save you from spending hundreds of hours exploring every single instrument and effect and will allow you to start creating the music you want immediately!
Best Virtual Instruments and Effects for Game Music, Film, Dance, Trap, and Hip Hop in Reason
These are the most popular sound packs for music production in Reason. Listen to them, install them and start making great music. 
Best Virtual Instruments and Effects for Game Music in Reason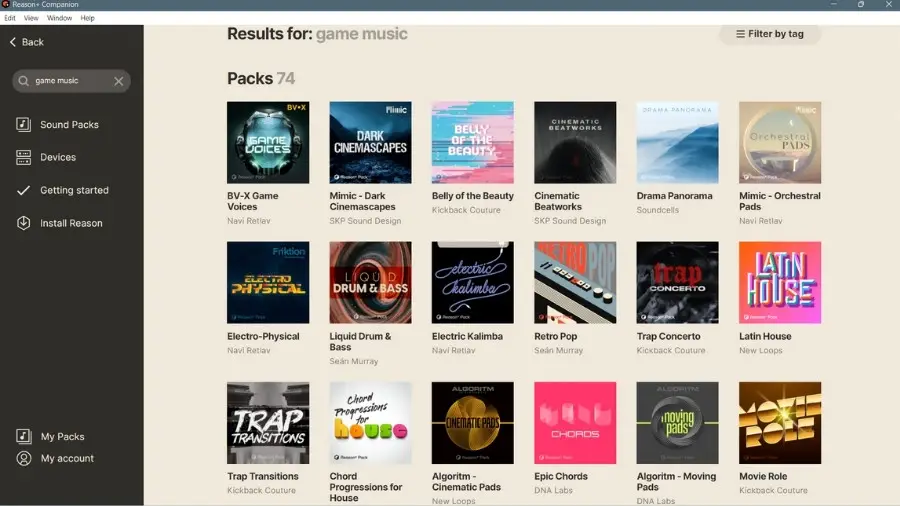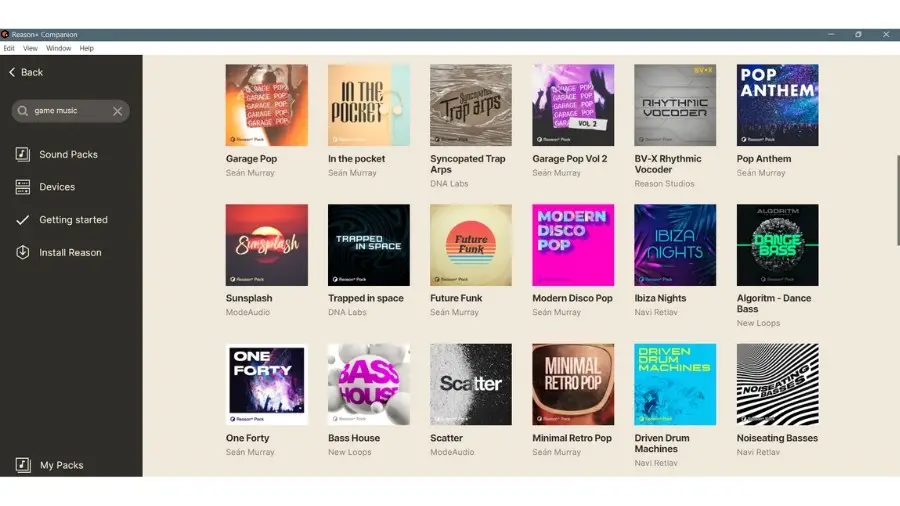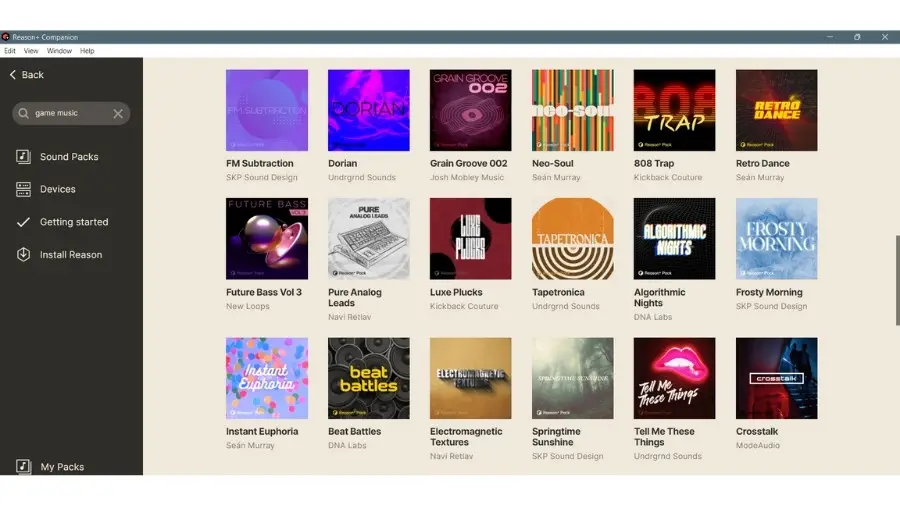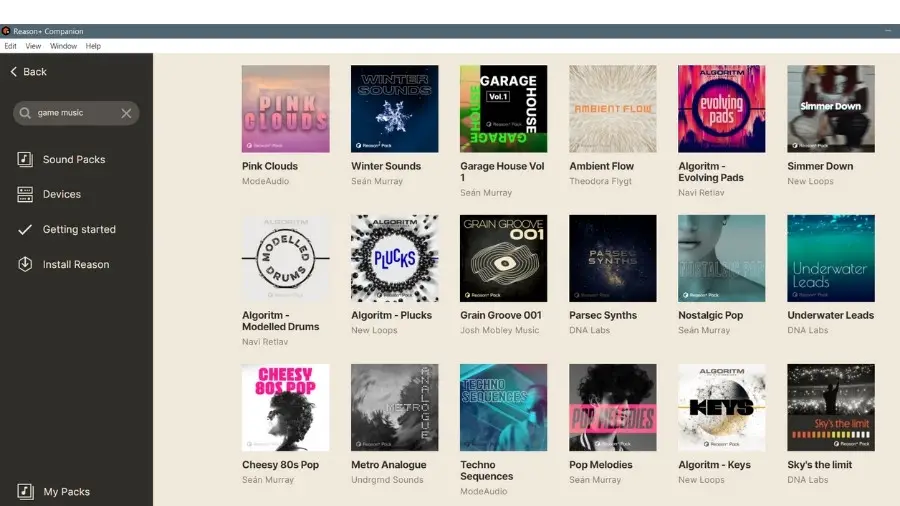 Best Virtual Instruments and Effects for Film Soundtrack in Reason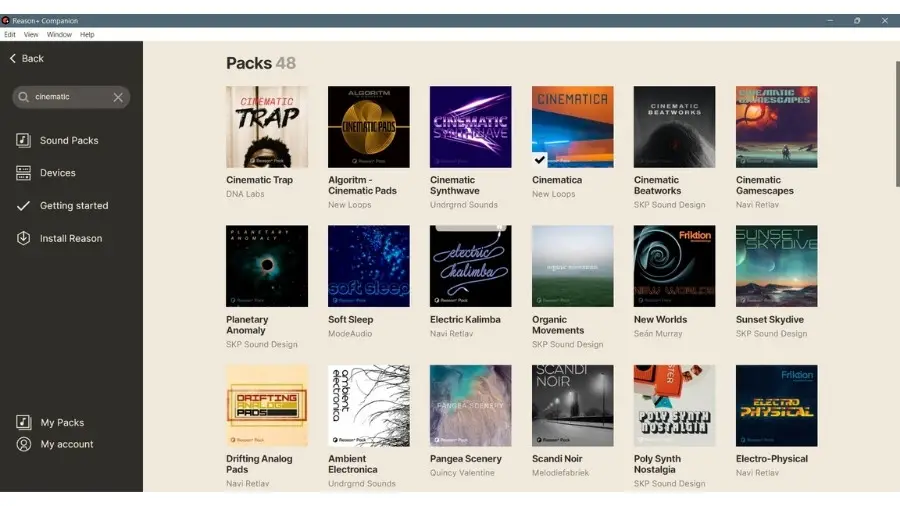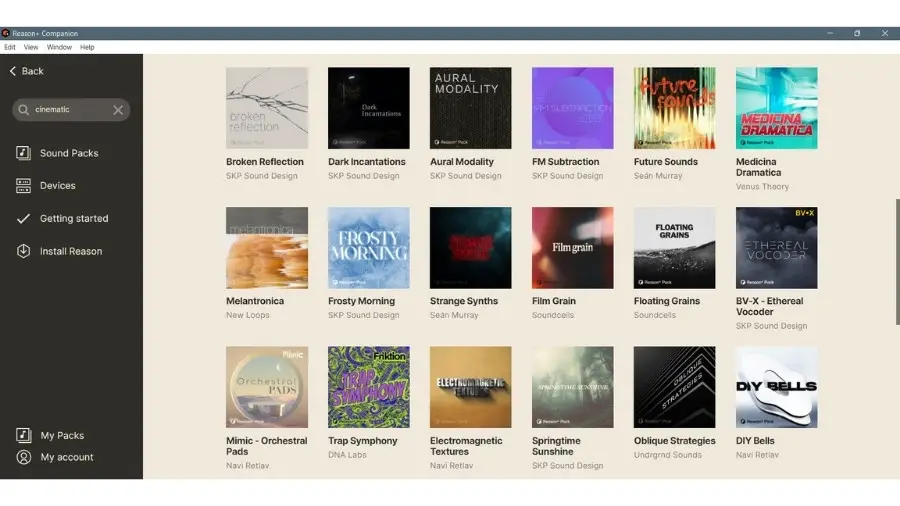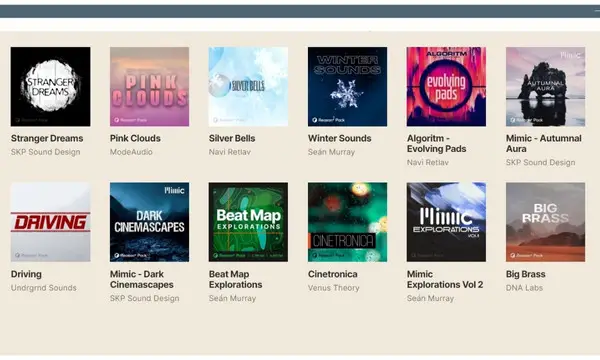 Best Virtual Instruments and Effects for Dance Music in Reason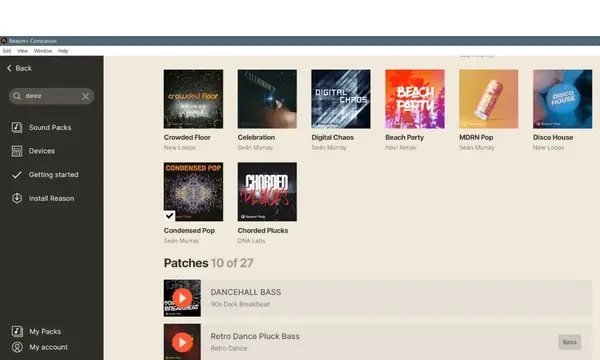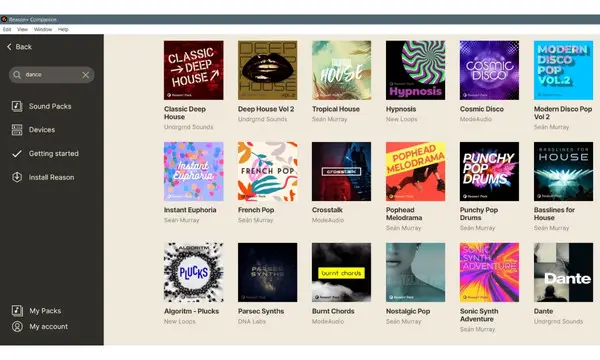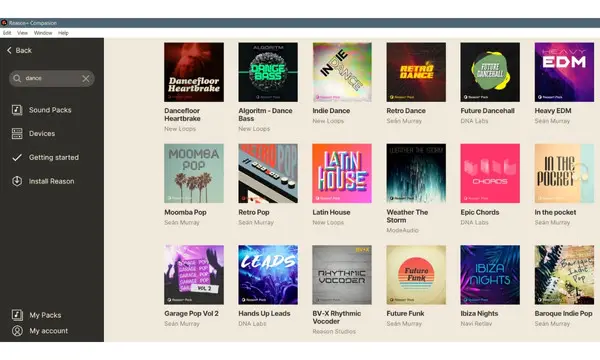 Best Virtual Instruments and Effects for Trap Music in Reason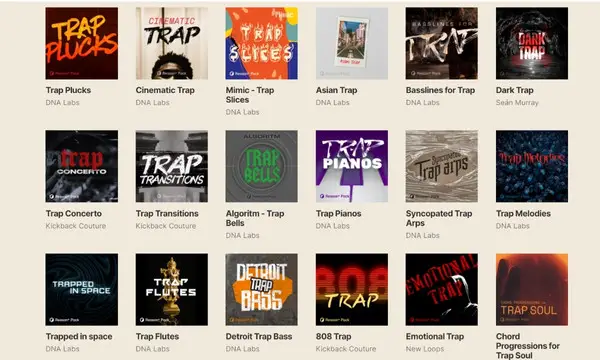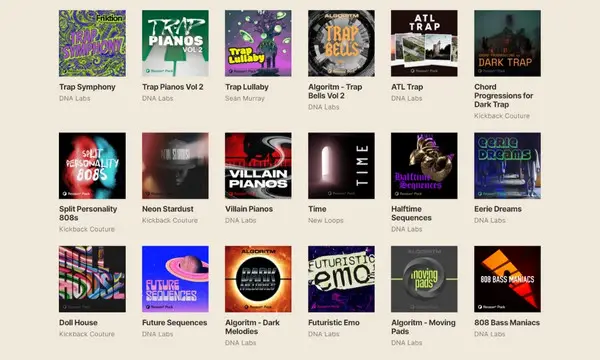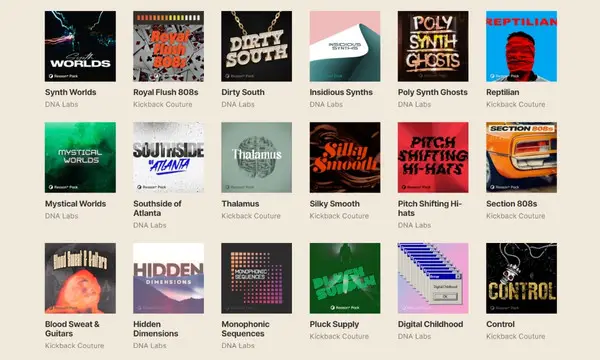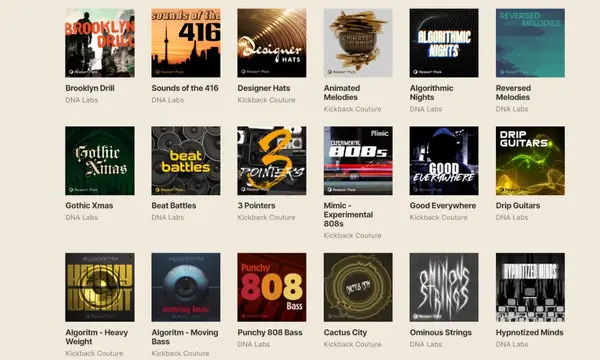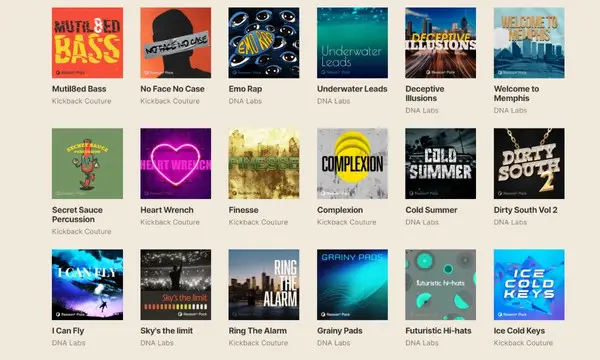 Best Virtual Instruments and Effects for Hip Hop Music in Reason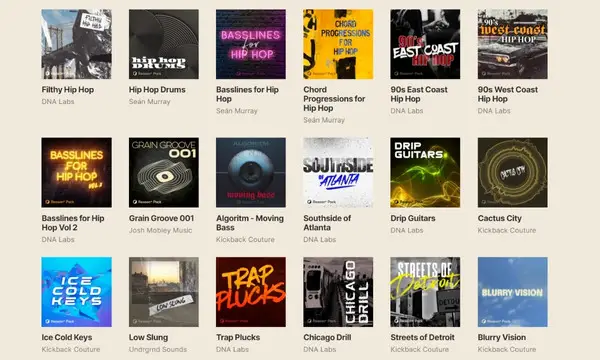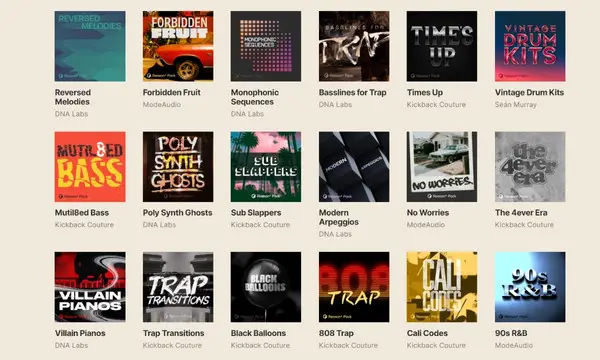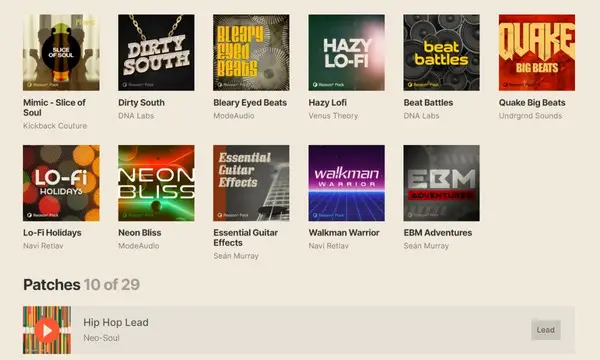 What Are Reason 12 System Requirements
You can use Reason on a computer that has an M1 Mac, Intel, or AMD multi-core processor, on macOS 10.13 (High Sierra) or later (64-bit) or Windows 10 (64-bit). The program will run with 4GB RAM, but having 8 GB or 16 GB will make it run smooth and steady; make sure you have at least 50GB of free system disk space.
If you're thinking of investing in a Windows PC, ASUS is an excellent reliable option that can help you produce professional results:
---
Your computer needs built-in audio hardware or an external digital audio interface. A reliable brand always offers great quality components, and built-in preamps (Focusrite, Universal Audio, Native Instruments, Berighner). These are the interfaces I would buy if I were to start a new studio, from the official stores on Amazon:
Focusrite Scarlett 2i2 3rd Gen USB Audio Interface
Native Instruments Komplete Audio 6 Mk2
Behringer U-PHORIA UMC202HD Audiophile 2×2
---
Using a MIDI interface or controller can help you create music at a fast pace, rather than relying on just using the pencil tool in the sequencer. The following devices (Akai, M-Audio, Native Instruments) are my recommended options from the official stores on Amazon to get a great job done without a huge budget:
AKAI Professional MPK249 – USB MIDI Keyboard Controller
Native Instruments Komplete Kontrol S61
---
Some great quality microphones can provide a superb sound. The following options (CAD Audio, Rode) are incredibly good for the price they are offered. Trust only the exclusive official stores on Amazon:
CAD Audio CAD M179 Variable-Pattern Condenser Microphone